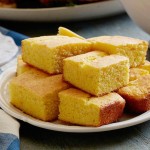 Homemade Corn Bread
[url href="http://cookingqueen.com/wp-content/uploads/2015/01/CQ-Cornbread-300×225.jpg"][img src="http://cookingqueen.com/wp-content/uploads/2015/01/CQ-Cornbread-300×225.jpg" width="300″ height="225″ class="alignnone size-medium" title="CQ-Cornbread"][/url]
Ingredients
⅔ cup butter
⅔ cup sugar
3 eggs
1⅔ cups milk
2⅓ cups flour
1 cup corn meal
4 tsp baking powder
1 tsp salt
Instructions
Preheat oven to 400 degrees.
Cream together the butter and sugar in a large bowl.
In a small bowl combine the eggs and milk.
In a third bowl combine the flour, corn meal, baking powder and salt.
Alternating pour in ¼th of the milk mixture, then ¼th of the flour mixture into the large bowl with the butter and sugar mixture until everything is combined.
Pour batter into a pam sprayed 9×13 inch pan.
Place in oven and bake for about 25 minutes.