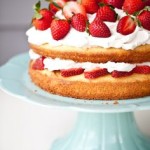 Strawberry Sponge Cake
[url href="http://cookingqueen.com/wp-content/uploads/2014/12/a-strawberry-sponge-2-200×300.jpg"][img src="http://cookingqueen.com/wp-content/uploads/2014/12/a-strawberry-sponge-2-200×300.jpg" width="200″ height="300″ class="alignnone size-medium" title="a strawberry sponge 2″][/url]
Ingredients
6 oz butter, soft
6 oz white sugar
3 large eggs
6 oz self-rising flour
1 lemon, zested
1 cup whipping cream
1 tsp vanilla bean paste, or vanilla extract
1 tbsp icing sugar and extra for sifting
3/4 lb strawberries
4 tbsp good quality strawberry or raspberry jam
Instructions
Pre-heat the oven to 350°F.
Butter and line two 8 or 9-inch cake tins with parchment paper.
Using a standing mixer, beat the butter, sugar and lemon zest until it becomes pale and fluffy. Add the eggs one at a time, beating well.
Then fold in the flour, one spoonful at a time, and blend until well combined.
Divide the mixture evenly between the 2 cake tins and level off with a knife.
Bake for 20 minutes until the sponge cakes are well risen, golden brown and firm to the touch. Run a rounded butter knife around the inside edge of the cake tin and carefully turn the cake out onto a cooling rack.
Meanwhile, hull the strawberries and slice them in half.
Whip the cream, icing sugar and vanilla until it becomes quite stiff.
When the cakes are cool, spread the jam on one of the sponge cakes and spread half of the whipped cream on top.
Place half of the strawberries on top of the cream.
Place the other sponge cake on top and spread with the remaining whipped cream.
Arrange the remaining strawberries in a spiral round the top of the cake.