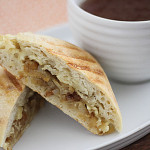 French Onion Soup Sandwiches
[url href="http://cookingqueen.com/wp-content/uploads/2015/02/CQ-French-Onion-soup-Sandwich-300×200.jpg"][img src="http://cookingqueen.com/wp-content/uploads/2015/02/CQ-French-Onion-soup-Sandwich-300×200.jpg" width="300″ height="200″ class="alignnone size-medium" title="CQ-French Onion soup Sandwich"][/url]
Ingredients
2 tbsp olive oil
2 large onions, thinly sliced
Salt & pepper to taste
1/2 tsp dried thyme
4 Ciabatta rolls, halved
1 c. shredded Gruyere cheese
4 c. no-beef broth, heated (you can find meatless beef broth at stores like Whole Foods)
Instructions
Heat olive oil in a large skillet on low heat.
Add sliced onions and cook until caramelized about an hour and fifteen minutes, stirring frequently.
Remove from heat and stir in salt and pepper to taste and thyme.
Heat Panini press or grill on high.
Divide caramelized onions onto bottom of rolls and top each one with 1/4 cup of cheese and top half of roll.
Grill for 10-15 minutes or until cheese is melted and bread is golden-brown.
Serve each sandwich with 1 cup of broth.