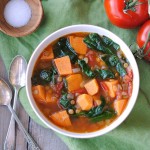 Sweet Potato and Lentil Soup
[url href="http://cookingqueen.com/wp-content/uploads/2015/02/CQ-Sweet-Potato-and-Lentil-soup-200×300.jpg"][img src="http://cookingqueen.com/wp-content/uploads/2015/02/CQ-Sweet-Potato-and-Lentil-soup-200×300.jpg" width="200″ height="300″ class="alignnone size-medium" title="CQ- Sweet Potato and Lentil soup"][/url]
Ingredients
2 Tbsp safflower oil
1 medium onion, diced
2 small tomatoes, diced
1 tsp fresh ginger, minced
1 1/2 tsp. turmeric
1 tsp. cumin
1 tsp. ground coriander
1/2 tsp. cinnamon
1/8 tsp. cayenne pepper
Pinch of sea salt
2-3 medium sweet potatoes, peeled and cut into 3/4-inch cubes
7 cups vegetable broth
1 cup brown lentils
1 cup baby spinach or kale
Instructions
In a large pot, heat oil over medium heat and sauté onion for about 2 minutes, until soft.
Stir in tomatoes and ginger, cooking an addition 3 minutes.
Stir in turmeric, cumin, coriander, cinnamon, cayenne and salt and cook for 2 minutes, tasting to make sure it's to your liking.
Next add the sweet potatoes, broth and lentils.
Bring soup to a boil then reduce heat and cover, allowing to simmer for about 30 minutes.
Then add spinach (or kale) and simmer for an additional 10 minutes. Enjoy!