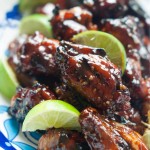 Honey Lime Sesame Chicken Wings
[url href="http://cookingqueen.com/wp-content/uploads/2015/01/CQ-Paleo-Honey-Lime-Sesame-Chicken-Wings-200×300.jpg"][img src="http://cookingqueen.com/wp-content/uploads/2015/01/CQ-Paleo-Honey-Lime-Sesame-Chicken-Wings-200×300.jpg" width="200″ height="300″ class="alignnone size-medium" title="CQ-Paleo-Honey-Lime-Sesame-Chicken-Wings"][/url]
Ingredients
3 Lbs. small chicken wings
1/3 Cup honey
1/4 Cup Coconut Aminos (Organic Raw Coconut Aminos Soy-Free Seasoning Sauce)
2 tsp garlic minced
3 Tbsp lime juice
1 Tbsp rice vinegar
1 Tbsp sesame seeds
1 Pinch chili flakes
Instructions
Preheat oven to 400 degrees.
Combine all ingredients except for wings in a small sauce pan.
Bring to a boil and let simmer for 5 minutes, or until thick and glossy.
Do not let cook for too long or mixture will caramelize and become hard.
While the sauce is thickening, pat the chicken dry with paper towels.
Lightly oil a 9×13 baking dish.
Lay the wings in the dish in a single layer.
Pour the sauce over the wings, using a basting brush to spread the sauce over all surfaces.
Bake the wings in the preheated oven for 1 hour on the top rack, turning the wings over after 40 minutes have passed.
Remove from oven.
The sauce will thicken as the wings start to cool down.
Turn wings to thoroughly coat in sauce before serving.