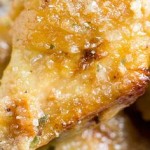 Salt and Vinegar Chicken Wings
[url href="http://cookingqueen.com/wp-content/uploads/2015/01/CQ-Salt-and-Vinegar-Wings-165×300.jpg"][img src="http://cookingqueen.com/wp-content/uploads/2015/01/CQ-Salt-and-Vinegar-Wings-165×300.jpg" width="165″ height="300″ class="alignnone size-medium" title="CQ-Salt and Vinegar Wings"][/url]
Ingredients
1 pkg chicken wings (approx 20 wings and drums)
3 tablespoons white distilled vinegar
2 tablespoons old bay seasoning
1/2 teaspoon white salt
Instructions
Coat wings in old bay seasoning.
Line wings on a foil-covered cookie sheet, or broiler pan and bake at 400* for 50 minutes.
Halfway through cook time, flip wings over to ensure both sides become crispy.
Mix vinegar and white salt in a separate bowl.
Toss cooked, crispy wings in vinegar/salt mix.