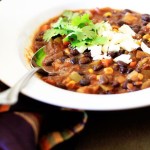 Pumpkin & Black Bean Chili
[url href="http://cookingqueen.com/wp-content/uploads/2015/01/CQ-pumpin-and-black-bean-chili-214×300.jpg"][img src="http://cookingqueen.com/wp-content/uploads/2015/01/CQ-pumpin-and-black-bean-chili-214×300.jpg" width="214″ height="300″ class="alignnone size-medium" title="CQ- pumpin and black bean chili"][/url]
Ingredients
1 lb ground beef
1 tablespoon dried, minced onion
3 teaspoons minced garlic
15oz can pumpkin puree
28oz can diced tomatoes, undrained
2 cans black beans, drained and rinsed
2 cups chicken broth
1 teaspoon dried parsley
2 teaspoons chili powder
1 teaspoon oregano
1 1/2 teaspoons cumin
sour cream
shredded cheddar
Instructions
Cook ground beef in stock pot until brown, drain, and return to pan.
Add the rest of the ingredients (besides the sour cream and cheese, of course) and stir to combine.
Cover and bring to a boil.
Reduce heat and simmer for 25 minutes, stirring occasionally.
Remove from heat and allow to cool slightly.
Serve in bowls topped with sour cream and cheddar.
This chili is perfect with some good cornbread!