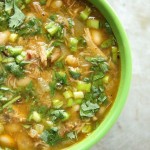 Pork Chili Verde
[url href="http://cookingqueen.com/wp-content/uploads/2015/01/CQ-Pork-chili-verde-200×300.jpg"][img src="http://cookingqueen.com/wp-content/uploads/2015/01/CQ-Pork-chili-verde-200×300.jpg" width="200″ height="300″ class="alignnone size-medium" title="CQ-Pork chili verde"][/url]
Ingredients
2 lbs. pork, diced (I used boneless pork ribs)
1 c. onion, chopped
14 oz. chicken broth
1½ tsp. garlic powder
2 ½ Tbsp. chicken stock
1 tsp. celery salt
1 Tbsp. cornstarch
½ tsp. oregano
1 Tbsp. cumin
½ Tbsp. jalapeno
4 Tbsp. chopped cilantro
½ Tbsp. chili powder
1 Tbsp. green Tabasco sauce
10 oz. green enchilada sauce
27 oz. canned green chiles, chopped or diced
8 oz. canned green chiles, pureed
1-2 cans white beans, drained and rinsed (optional)
½ tsp. salt
Instructions
Brown pork and drain.
Add onion & chicken broth (will not cover meat).
Simmer 1 hour, stirring often.
Combine garlic powder, chicken stock, celery salt, cornstarch, oregano, cumin, jalapeno, cilantro, chili powder, and green Tabasco sauce.
Simmer 1 hour stirring often to avoid sticking.
Add green enchilada sauce and stir.
Simmer ½ hour.
Add chopped green chiles and cook for 15 minutes.
Add pureed green chiles, white beans and salt to taste (about ½ tsp).
Serve with cheese, sour cream, chips and/or flour tortillas.
SLOW COOKER INSTRUCTIONS: Brown pork and drain.
Saute onion and add to slow cooker with meat.
Add chicken broth and cook on low heat for 3 hours.
Add remaining ingredients and cook additional 2 hours on low heat.