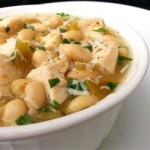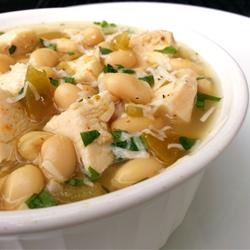 Easy White Chicken Chili
[url href="http://cookingqueen.com/wp-content/uploads/2015/01/CQ-White-chicken-chili.jpg"][img src="http://cookingqueen.com/wp-content/uploads/2015/01/CQ-White-chicken-chili.jpg" width="250″ height="250″ class="alignnone size-full" title="CQ-White chicken chili"][/url]
Ingredients
1 tablespoon olive oil
3 skinless, boneless chicken breast halves
1 large onion, chopped
2 cloves garlic, minced
5 1/4 cups chicken broth
3 (15 ounce) cans cannellini (white kidney) beans, rinsed and drained
2 (4 ounce) cans chopped green chiles
1 tablespoon dried oregano
1 teaspoon ground cumin
2 pinches cayenne pepper, or to taste
1/4 cup chopped fresh cilantro, or to taste
1/2 cup shredded Monterey Jack cheese, or to taste
salt to taste
Instructions
Heat olive oil in a Dutch oven over medium heat.
Cook chicken, onion, and garlic in hot oil until the chicken is browned completely, 3 to 5 minutes per side.
Remove the chicken to a cutting board, cut into 1-inch pieces, and return to the Dutch oven; add chicken broth, cannellini, green chilies, oregano, cumin, and cayenne pepper.
Bring the mixture to a simmer and cook until the chicken is cooked through, 30 to 45 minutes.
Add tortilla chips on top.
Don't drain or rinse beans to thicken sauce.
Sour cream is also an option.
Pick up a rotisserie chicken at the grocery store and save even more time.
Divide cilantro among 4 bowls.
Ladle chili over cilantro and top with cheese.