When it comes to the story of chili, tales and myths abound.
Most historians agree that the earliest written description of chili came from J.C. Clopper, who lived near Houston. While his description never mentions the word chili this is what he wrote of his visit to San Antonio in 1828: "When they [poor families of San Antonio] have to pay for their meat in the market, very little is made to suffice for the family; it is generally cut into a kind of hash with nearly as many peppers as there are pieces of meat–this is all stewed together."
From the time the second person on earth mixed some Chile peppers with meat and cooked them, the great chili debate was on; more of a war, in fact.
The desire to brew up the best bowl of chili in the world is exactly that old.
The great debate, it seems, is not limited to whose chili is best. Even more heated is the argument over where the first bowl was made; and by whom.
There may not be an answer. There are, however, certain facts that one cannot overlook.
The mixture of meat, beans, peppers, and herbs with a thick slice of buttered cornbread, can't be beat on a cold evening!
Here is a collection of Chili Recipes that are sure to please…you may even find a NEW favorite!
 Jean, Jean's Bean, Bean Chili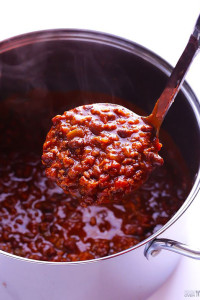 Click here to try this classic RED version
Not really craving RED chili…how about trying a WHITE version
Easy White Chicken Chili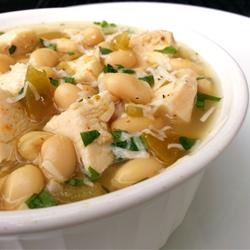 Click here to try this delicious WHITE version
Looking for something a little more..EXOTIC?
Pumpkin & Black Bean Chili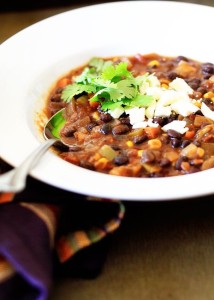 Click here for this exotic blend of Pumpkin and Black Beans
 We have RED, we have WHITE , we even had ORANGE if you count the Pumpkin…how about a GREEN version
Pork Chili Verde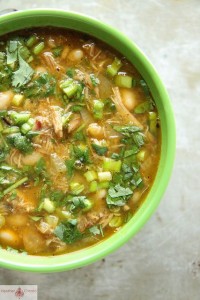 Click here for a delicious explosion of flavors
Don't forget the Cornbread…for many, that is the best part!
Homemade Cornbread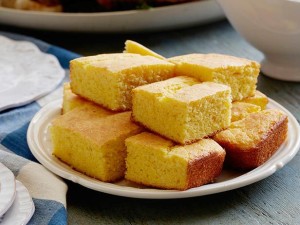 Click here for this tasty recipe
Pick one or pick them all…whichever version you choose, grab a big bowl, a thick slice of warm cornbread and get ready for some good ole'fashion love in a bowl!