It's hard to believe my favorite holiday is only a few weeks away – Christmas. This week I managed to finish all of my Christmas shopping for friends and family along with planning some unforgettable recipes to share with all of them.
December is a month of various Multicultural holidays. There are some wonderful holiday customs carried out all over the world, but also many delicious desserts, I would love to share a few with you.
Christmas in France
In French Happy/Merry Christmas is 'Joyeux Noël'. In France, Father Christmas / Santa Claus / St. Nicholas is called Père Noël (Father Christmas).
The main Christmas meal, called Réveillon, is eaten on Christmas Eve/early Christmas morning after people have returned from the midnight Church Service. Dishes might include roast turkey with chestnuts or roast goose, oysters, foie gras, lobster, venison and cheeses. For dessert, a chocolate sponge cake log called a bûche de Noël (Yule Log) is normally eaten.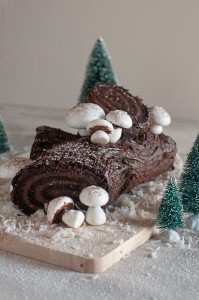 To try this beautiful recipe for  Buche de Noel click here 
Christmas in Sweden
In Sweden, presents might be brought by Santa called 'Jultomten' or by gnomes/elves called 'Nissar' or 'Tomte'. They're called Nisse' in Norway.
Around Christmas time in Sweden, one of the biggest celebrations is St. Lucia's Day (or St. Lucy's Day) on December 13th. The celebration comes from stories that were told by Monks who first brought Christianity to Sweden. St Lucia was a young Christian girl who was martyred, killed for her faith, in 304AD. The most common story told about St Lucia is that she would secretly bring food to the persecuted Christians in Rome, who lived in hiding in the catacombs under the city. She would wear candles on her head so she had both her hands free to carry things. Lucy means 'light' so this is a very appropriate name.
A popular food eaten at St. Lucia's day are 'Lussekatts', St Lucia's day buns flavored with saffron and dotted with raisins which are eaten for breakfast.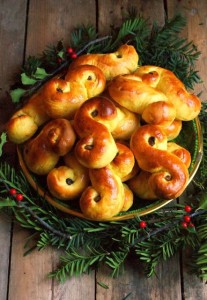 Click here for this delicious Lussekatter recipe
Christmas in Italy
On Christmas Eve, it's common that no meat (and also sometimes all dairy) is eaten. Often a light seafood meal is eaten people go to the Midnight Mass service. The types of fish and how they are served vary between different regions in Italy.
For many Italian-American families a big Christmas Eve meal of different fish dishes is now a very popular tradition! It's known as The Feast of the Seven Fishes ('Esta dei Sette Pesci' in Italian). The feast seems to have its root in southern Italy and was bought over to the USA by Italian immigrants in the 1800s. It now seems more popular in America than it is in Italy! When people return from Mass, if it's cold, you might have a slice of Italian Christmas Cake called 'Panettone' which is like a dry fruity sponge cake and a cup of hot chocolate!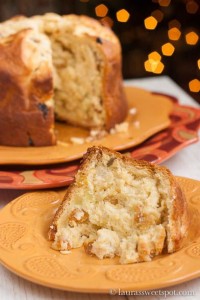 Click here to try this Panettone recipe for yourself
Christmas in Greece
In Greek Happy/Merry Christmas is 'Kala Christougenna'.
On Christmas Eve, children, especially boys, often go out singing 'kalanda' (carols) in the streets. They play drums and triangles as they sing. Sometimes they will also carry model boats decorated with nuts which are painted gold. Carrying a boat is a very old custom in the Greek Islands.
If the children sing well, they might be given money, nuts, sweets and dried figs to eat.
The main Christmas meal is often Lamb or pork, roasted in an oven or over an open spit. It's often served with a spinach and cheese pie and various salads and vegetables. Other Christmas and new year foods include 'Baklava' (a sweet pastry made of filo pastry filled with chopped nuts and sweetened with syrup or honey), Kataifi (a pastry made from a special form of shredded filo dough and flavored with nuts and cinnamon), Theeples (a kind of fried pastry). Another popular Christmas dessert are melomakarono, egg or oblong shaped biscuit/cakes made from flour, olive oil, and honey and rolled in chopped walnuts.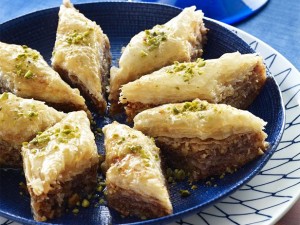 Click here to try this mouthwatering Greek Baklava treat
Christmas in Japan
In Japanese Happy/Merry Christmas is 'Meri Kurisumasu'.
In Japan, Christmas is known as more of a time to spread happiness rather than a religious celebration. Christmas Eve is often celebrated more than Christmas Day. Christmas Eve is thought of as a romantic day, in which couples spend together and exchange presents. In many ways it resembles Valentine's Day celebrations in the UK and the USA. Young couples like to go for walks to look at the Christmas lights and have a romantic meal in a restaurant – booking a table on Christmas Eve can be very difficult as it's so popular!
Fried chicken is often eaten on Christmas day. It is the busiest time of year for restaurants such as KFC and people can place orders at their local fast food restaurant in advance!
The traditional Japanese Christmas food is Christmas cake, but it's not a rich fruit cake, but is usually a sponge cake decorated with strawberries and whipped cream.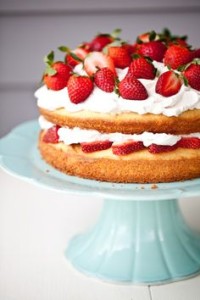 Click here for a traditional sponge cake recipe
I hope you enjoyed this "sweet" trip around the world…Let the holiday baking begin!