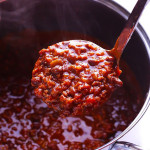 Jean, Jean's Bean , Bean Chili
Prep time:
Cook time:
Total time:
[url href="http://cookingqueen.com/wp-content/uploads/2014/10/Chili_fixed-200×300.jpg"][img src="http://cookingqueen.com/wp-content/uploads/2014/10/Chili_fixed-200×300.jpg" width="200″ height="300″ class="alignnone size-medium" title="Chili_fixed"][/url]
Ingredients
1 red bell pepper, chopped
1 yellow bell pepper, chopped
3 tablespoons chili powder
1 tablespoon ground cumin
1 tablespoon chipotle chili powder
2 teaspoons dried oregano
1 tablespoon smoked paprika
Salt and freshly ground black pepper (I use 1 teaspoon each)
1 pound 85 percent lean ground beef
1 pound ground pork)
1 (15-ounce) can black beans
1 (15-ounce) can kidney beans
2 (24-ounce) cans crushed tomatoes
Instructions
In large heavy-bottomed Dutch oven, cook the onions over medium heat until sweated, stirring occasionally.
Once the onions are soft add the bell peppers, chili powder, cumin, chipotle chili powder, oregano, and smoked paprika and season with salt and pepper, to taste.
Cook until the vegetables are tender and seasonings are aromatic.
Add the beef and break it up with a wooden spoon.
Once beef is broken up and beginning to brown, add the pork.
Break up with wooden spoon like the beef, and brown, until no longer pink, roughly 4 minutes. Stir in the beans.
Toss together, then add the crushed tomatoes.
Turn the heat down to low and simmer for 1 1/2 hours.
Taste for seasoning and add salt and pepper, if necessary.
Transfer the chili to serving bowls and garnish with lime wedges, sour cream, shredded cheese, and sliced scallions.