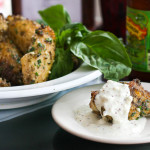 BAKED PARMESAN GARLIC CHICKEN WINGS
[url href="http://cookingqueen.com/wp-content/uploads/2015/01/CQ-baked-parmesan-garlic-wings-300×200.jpg"][img src="http://cookingqueen.com/wp-content/uploads/2015/01/CQ-baked-parmesan-garlic-wings-300×200.jpg" width="300″ height="200″ class="alignnone size-medium" title="CQ- baked-parmesan-garlic-wings"][/url]
Ingredients
1 teaspoon dried oregano
1 teaspoon dried rosemary
1/2 teaspoon ground cumin
1 teaspoon kosher or sea salt (1/2 tsp table salt)
2 1/2 pounds chicken wings
2 tablespoons extra-virgin olive oil (or melted butter)
2 tablespoons minced fresh basil
2 garlic cloves, finely minced
1/4 cup grated parmesan cheese
1/2 teaspoon seasoning salt (like Lawry's)
1 cup blue cheese dressing
1-2 teaspoons Dijon mustard (or to taste)
Instructions
Preheat oven to 425F.
In a small bowl, mix together the oregano, rosemary, cumin and salt.
Lay the chicken wings on a baking sheet and season the chicken wings with this mixture.
Bake the chicken wings for 20-25 minutes.
While the chicken is baking, mix together the oil, fresh basil, garlic, parmesan cheese and seasoning salt.
In a separate bowl, mix together the blue cheese dressing with the mustard (this is your dipping sauce).
When the chicken is cooked through, toss the wings with the garlic/cheese/olive oil (or butter) sauce.
Serve with the blue cheese/mustard dressing.