Puerto Rico is an archipelago that includes the main island of Puerto Rico and a number of smaller islands, the largest of which are Vieques, Culebra, and Mona. The main island of Puerto Rico is, by land area, the smallest of the Greater Antilles. With around 3.6 million people, it ranks third in population among that group of four islands, which include Cuba, Hispaniola and Jamaica. The capital and largest city is San Juan. Due to its location, Puerto Rico has a tropical climate and is subject to hot weather all-year-round.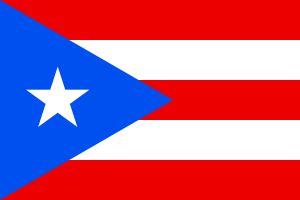 Puerto Ricans are known for their unforgettable "parrandas or trullas navideñas". A Parranda is when a small group of friends gathers together to "asaltar" or surprise another friend. It's the Puerto Rican version of Christmas caroling.
The parranderos arrive at the destination and then very quietly gather by the front door. At a signal all start playing their instruments and singing. The parrandas usually begin after 10pm in order to surprise and wake the sleeping friend. The parranderos are invited in and refreshments, music and dance follow. Of course we don't surprise unsuspecting victims. The parranderos are given plenty of "hints" beforehand by the homeowner that he is ready to receive a parranda.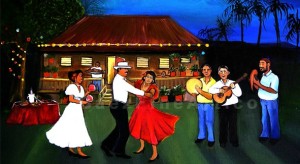 The party goes on for an hour or two then everyone, including the owners of the house, leave to parrandear some more. The group grows as they offer their parranda at several houses during that night. At the last house probably around 3 or 4 in the morning the homeowner offers the traditional chicken soup or asopao de pollo. The party is over at dawn.
Part of the holiday festivities includes cooking a pig on a spit. Most Puerto Ricans will feel their Christmas was a little incomplete if they did not get to participate or enjoy an old fashioned lechón asao. Cooking the pig is a big event. The pig is purchased and prepared a couple of days ahead. On the "big day" the pig is mounted on a stick and put to cook as early at 4 in the morning. At least two people must be on "watch" with the pig to turn it and make sure all goes well. Friends and relatives begin arriving later in the morning (this is an all day party.) While the pig roasts there is lots of holiday music. Older women will be in the kitchen cooking side dishes that will accompany the lechón. Children will be playing tag and getting in trouble. Guests bring traditional holiday desserts.
Traditional Puerto Rican Christmas foods such as pasteles, lechón asado, arroz con dulce, tembleque, and coquito give Puerto Ricans a separate identity from the rest of the world. Before Puerto Rican traditions became influenced by American culture Christmas Day was a joyful day and some gifts were received at some houses, but it was not from San Nicolás. Santa couldn't make it to the tropics in his hot wool suit with cap and reindeer. Our holiday gifts used to be from Los Reyes Magos.
Our Reyes celebration begins on the eve of Three Kings Day.
On the evening of January 5th Puerto Rican children go outside with scissors and shoe boxes to cut grass for the camels to eat. The grass goes into shoe boxes and the boxes are placed under the beds of parents, grandparents, godparents, uncles, aunts, etc. Some- time during the night Los Reyes come and while their camels eat the grass Los Reyes fill the shoe boxes to overflowing with gifts, and sweets, and many wonderful things.
Coquito is an eggnog-like alcoholic beverage traditionally served in Puerto Rico. It is made with rum, egg yolk, coconut milk, sweet condensed milk, cinnamon, nutmeg, and cloves. The drink is commonly associated with the Christmas holidays, where it is traditionally served along with other holiday food.
Variations of the drink include flavored rum or spiced rum, coconut cream, lemon zest, ice cream, ginger, ground nut horchata, vanilla, chocolate and evaporated milk; these ingredients are not required but are used to make the taste sweeter. Sometimes Coquito is made with pitorro as its alcoholic base. Coquito is served in shot glasses or small cups and it is usually sprinkled with grated nutmeg or cinnamon.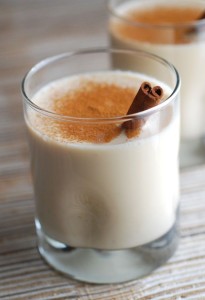 Click here for the recipe
El Museo del Barrio in New York City hosts an annual Coquito Tasting Contest during the month of December.
El Museo del Barrio, often known simply as El Museo (the museum) is a museum located in the East Harlem neighborhood of Manhattan. El Museo specializes in Latin American and Caribbean art, with an emphasis on works from Puerto Rico and the Puerto Rican community in New York City.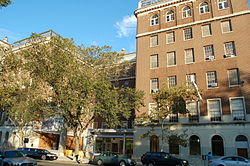 Christmas in Puerto Rico is a big deal, bigger than in most places and bigger than you might imagine, if you get the chance to visit Puerto Rico, you will enjoy one of the most festive Christmas seasons in the world. And work on your tan as well.