Pasta and Chicken are always a favorite at my house, and this dish is no exception. The fresh tastes of the tomatoes and basil come through. Using a store bought chicken broth makes this recipe ideal for the beginner cook; however, for an even better flavor, you might try making your own broth by simmering a whole chicken.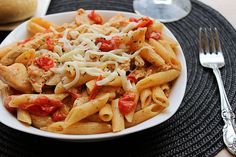 Ingredients:
4 Garlic cloves, peeled
2 cups grape or cherry tomatoes
3 cups uncooked mezze penne pasta
3 cups chicken broth
3/4 cup dry white wine such as Chardonnay
1/2 tsp each salt and coarsely ground black pepper
1 1/4 cups lightly packed fresh basil leaves, divided
1 oz Parmesan cheese, grated (about 1/4 cup packed)
2 cups diced grilled chicken breasts
Additional grated fresh Parmesan cheese and coarsely ground black pepper (optional)
Directions:
Spray baker with olive oil spritzer. Slice or press garlic into baker  Add tomatoes. Cover; microwave on HIGH 4-5 minutes or until tomatoes begin to burst, stirring after 2 minutes. Crush tomatoes. Add pasta, broth, wine, salt and black pepper.
Return baker to microwave; cover and microwave on HIGH 16-18 minutes or until pasta is tender, stirring after 10 minutes. Meanwhile, coarsely chop basil. Reserve 2 tbsp for garnish. Grate cheese.
Carefully remove baker from microwave and remove lid, lifting away from you. Add remaining basil, cheese and chicken to baker ; mix well. Garnish with reserved 2 tbsp basil, additional Parmesan cheese and black pepper, if desired.
Yield: 8 servings
Nutrients per serving: Light (about 1 cup): Calories 240, Total Fat 2.5 g, Saturated Fat .5 g, Cholesterol 25 mg, Carbohydrate 35 g, Protein 17 g, Sodium 450 mg, Fiber 2 g
Cook's Tips: An additional 3/4 cup chicken broth can be substituted for the wine, if desired.
Any tube-shaped pasta requiring 9-11 minutes cook time, such as penne or rigatoni, can be substituted for the mezze penne pasta.
To grill chicken in a Grill Pan, season 2 chicken breasts, about 6 oz each, with salt and black pepper. Heat Grill Pan over medium-high heat 5 minutes. Spray pan with oil. Cook chicken 4-6 minutes or until grill marks appear. Turn chicken over; cook 4-6 minutes or until center of chicken is no longer pink and Digital Pocket Thermometer registers 170°F.
Another favorite chicken recipe of mine is Chicken Bourguignon with White Wine