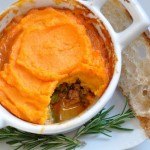 Here is a great way to use up those left-overs. Everyone is going to have different leftovers so how you follow the recipe depends on what you have left. It is quite simple – Make a sweet potato crust and mix chunks of turkey with your green bean casserole and then spread it over the sweet potato crust and top with the fried onions. It may not be gourmet but it will satisfy your family especially the kids!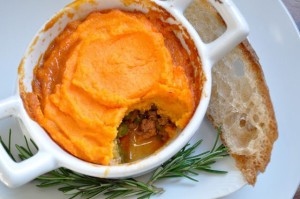 Ingredients 1 Can (24 ounces) sweet potatoes, drained
2 Tablespoons margarine, melted
1/4 Teaspoon pumpkin pie spice
Vegetable cooking spray 2 Cups COOKED TURKEY, cut into 1/2-inch cubes
1 Can (10-3/4 ounces) reduced-fat and reduced-sodium cream of mushroom soup 1 Package (9 ounces) frozen French-style green beans, thawed and well drained
1 Can (2 ounces) mushroom stems and pieces, drained
1/2 Teaspoon each salt and pepper
2 Tablespoons canned fried onion rings, crushed
1 Can (8 ounces) cranberry sauce, optional
In medium bowl blend sweet potatoes, margarine and pumpkin pie spice until smooth. In 9-inch pie plate, lightly sprayed with vegetable cooking spray, line plate with potato mixture to form a pie shell; set aside.
In medium bowl combine turkey, soup, beans, mushrooms, salt and pepper. Pour mixture into prepared shell. Sprinkle onions over top. Bake in a preheated 350 degree F oven for 30 minutes or until hot. Serve with cranberry sauce, if desired.