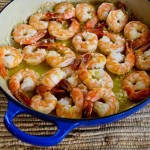 Garlic and Lemon Shrimp
[url href="http://cookingqueen.com/wp-content/uploads/2015/02/CQ-Garlic-Lemon-shrimp-300×300.jpg"][img src="http://cookingqueen.com/wp-content/uploads/2015/02/CQ-Garlic-Lemon-shrimp-300×300.jpg" width="300″ height="300″ class="alignnone size-medium" title="CQ- Garlic Lemon shrimp"][/url]
Ingredients
1 lb. jumbo shrimp, thawed if frozen
(I used 21-25 per pound size, which was good for this recipe. Buy pre-peeled shrimp or peel them when they have thawed.)
2 T olive oil
1 T butter
2 T finely minced garlic
2 T fresh-squeezed lemon juice
1 T lemon zest (or a little less if you're not that fond of lemon zest)
Sea salt to taste (I did not use much salt)
Instructions
If using frozen shrimp thaw them over night in the refrigerator.
Drain shrimp and pat dry.
Zest one large lemon and then squeeze the juice, to yield at least 2 T juice and close to 1 T lemon zest.
Finely mince garlic cloves to make 2 T minced garlic.
Heat the oil over medium high heat and then melt the butter, using a large heavy pan.
(I used a pan that was nice enough to serve the shrimp from, which helps keep them hot.)
Add the shrimp in a single layer and cook just until they start to turn pink at the edges, not more than 1-2 minutes.
Turn shrimp over quickly and add the minced garlic.
Continue to cook until shrimp are barely firm, probably not more than 3-4 minutes more.
(Don't overcook; the shrimp will continue to cook a little in the hot pan.)
Turn off heat and add the lemon juice, lemon zest, and salt as desired and stir to coat shrimp. Serve immediately.