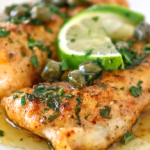 Bacalao with Capers and Cilantro
[url href="http://cookingqueen.com/wp-content/uploads/2015/02/CQ-bacalao-with-capers-and-cilantro.png"][img src="http://cookingqueen.com/wp-content/uploads/2015/02/CQ-bacalao-with-capers-and-cilantro.png" width="216″ height="299″ class="alignnone size-full" title="CQ- bacalao-with-capers-and-cilantro"][/url]
Ingredients
4 fresh, skinless, boned cod fish fillets, about one inch thick
Kosher salt
Fresh ground pepper
1/4 cup flour, for dredging
1/4 tsp paprika
3 T butter
3 T olive oil
2 T capers
2 limes, one thinly sliced, 1 sliced in half and juiced
1 T finely chopped fresh cilantro, plus more for garnish
1 T finely chopped fresh parsley, plus more for garnish
Instructions
Dry the fish fillets with a paper towel and season with salt and pepper.
In a large, shallow bowl, whisk the flour and the paprika to combine well.
Lightly dredge the fillets in the flour, shaking off excess flour.
In a large frying pan over medium-high heat, heat the olive oil and butter.
Just before the butter starts to brown, add the fillets.
Brown for 2 to 3 minutes, then carefully flip over to brown the other side for another 2 to 3 minutes.
Reduce heat if butter starts to brown too much or burn.
When the fillets are done (they should be opaque and flaky), remove to a warm platter.
Add the capers to the pan and cook for another minutes.
Add the lime juice, parsley and cilantro and stir to combine.
Pour the sauce over the fish fillets.
Garnish with sliced lime and more cilantro and parsley.
Serve immediately.
Makes 4 servings.