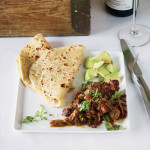 Pork Carnitas with Garlic and Orange
Recipe Type
:
Super Bowl Food
[url href="http://cookingqueen.com/wp-content/uploads/2015/01/CQ-Pork-Carnitas-300×300.jpg"][img src="http://cookingqueen.com/wp-content/uploads/2015/01/CQ-Pork-Carnitas-300×300.jpg" width="300″ height="300″ class="alignnone size-medium" title="A120622 Hard To Pair Foods. October 2012 Food & Wine Spicy: Carnitas w/Garlic & Orange. Wine pairing: Kabinett Riesling."][/url]
Ingredients
One 3 1/2-pound boneless pork shoulder
Vegetable oil, for drizzling
Salt
Freshly ground pepper
1 teaspoon pure ancho chile powder
20 unpeeled garlic cloves
3 jalapeños, seeded and diced
1/2 cup fresh orange juice
Warm tortillas, for serving
Instructions
Preheat the oven to 325°.
In a roasting pan, rub the pork all over with oil and season with salt and pepper.
Turn the pork meaty side up and sprinkle with the ancho.
Add 1/2 cup of water, cover with foil and bake for 1 hour.
Scatter the garlic cloves and jalapeños around the pork and bake uncovered for 2 hours, turning the pan after 1 hour.
Transfer the garlic cloves and jalapeños to a plate.
Increase the oven temperature to 375°.
Cut the pork into 4 thick slices.
Using 2 forks, pull the pork into large chunks.
Arrange the chunks in the pan, browned sides up.
Peel the garlic and add the cloves to the pan.
Roast the pork for 30 minutes, until well-browned and crisp.
Pull into smaller pieces and roast for 30 minutes longer.
Transfer the pork and garlic to a large platter and scatter the jalapeños on top.
Pour off all but 1 tablespoon of fat from the roasting pan.
Set the pan over moderate heat, add the orange juice and boil, scraping up the browned bits; pour over the pork and toss to coat.
Season with salt and pepper and serve with tortillas.