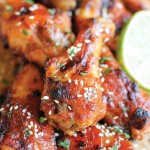 Baked Honey Sriracha Wings
[url href="http://cookingqueen.com/wp-content/uploads/2015/01/CQ-honey-Siracha-wings-209×300.jpg"][img src="http://cookingqueen.com/wp-content/uploads/2015/01/CQ-honey-Siracha-wings-209×300.jpg" width="209″ height="300″ class="alignnone size-medium" title="CQ-honey Siracha wings"][/url]
Ingredients
2 pounds chicken wings
2 tablespoons unsalted butter, melted
1 tablespoon vegetable oil
1 teaspoon garlic powder
Kosher salt and freshly ground black pepper, to taste
1 tablespoon chopped fresh cilantro leaves
Sesame seeds, for garnish
FOR THE HONEY SRIRACHA GLAZE
5 tablespoons unsalted butter
1 tablespoon all-purpose flour
1/4 cup honey
1/4 cup Sriracha*
1 tablespoon soy sauce
Juice of 1 lime
Instructions
Preheat oven to 400 degrees F.
Line a baking sheet with parchment paper.
To make the glaze, melt butter in a small saucepan over medium heat.
Whisk in flour until lightly browned, about 1 minute.
Stir in honey, Sriracha, soy sauce and lime juice.
Bring to a boil; simmer until slightly thickened, about 1-2 minutes.
In a large bowl, combine wings, butter, vegetable oil, garlic powder, salt and pepper, to taste.
Place wings onto the prepared baking sheet and bake for 25-30 minutes, using metal tongs to turn at halftime.
Brush wings with Sriracha glaze and broil for 3-4 minutes, or until crisp and crusted.
Serve immediately, garnished with cilantro and sesame seeds, if desired.