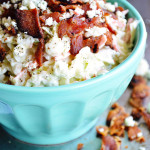 Bacon & Blue Cheese Coleslaw
[url href="http://cookingqueen.com/wp-content/uploads/2015/01/CQ-Blue-cheese-bacon-slaw-199×300.jpg"][img src="http://cookingqueen.com/wp-content/uploads/2015/01/CQ-Blue-cheese-bacon-slaw-199×300.jpg" width="199″ height="300″ class="alignnone size-medium" title="CQ- Blue cheese bacon slaw"][/url]
Ingredients
10 ounces of coleslaw mix (chopped cabbage and carrots)
¼ cup mayonnaise
¼ cup sour cream
1 tablespoon apple cider vinegar
½ tablespoon sugar
⅔ cup blue cheese crumbles
4 slices of bacon chopped
additional blue cheese, salt and pepper as desired
Instructions
Add the mayonnaise, sour cream, apple cider vinegar, and sugar into a medium sized bowl. Stir to combine.
Fold in the blue cheese crumbles.
Add in the cabbage and carrots mixture. Stir until completely coated.
Top with the crumbled bacon and additional blue cheese as desired. Or stir the bacon into the coleslaw to enjoy in every bite!